The Breton Bikes/ITDG charity ride to the Pyrenees
For those wishing to try it themselves we will supply a detailed route plan (now tried and tested!)with all campsite details and a CD ROM with over 200 photographs. All we ask is a donation to ITDG of at least 30 euros/dollars. You can do this by simply contacting me at ITDG@bretonbikes.com and I will expain how you can pay
This is my very biased account of the trip, Evelyn, one of the hero's has done her own version which you can find here
The idea...
Breton Bikes is our own baby, Kate and I have run it for fourteen years and through that time made both a living, and many friends. But though enjoying our cosy lifestyle in central Brittany, both of us increasingly felt that having had such wonderful good fortune in our lives we needed to do something to help others pick themselves up and make their lives better too. Call it middle class angst or guilt at our luck? The feeling that after hearing and reading so much about the misfortunes of others, that it began to feel like some form of gratuitous self-indulgence to moan about the state of the world at a dinner party, whilst downing a bottle of Champagne that would feed a family in some third world village for a month. So we wanted to make a difference and we knew that in the group of cyclists who regularly came on our tours we had people who could make it possible.
The Plan
We run cycling holidays. Once a year we run a special tour out of our normal area (Brittany) where I go as guide and mechanic. These trips are a bit special and over the years they've become populated by cyclists who come year after year and who I consider some of my closest friends. Normally these groups number 14 and we've had some great fun together, although it has to be said they have to pay for the privilege. This year I thought why not run a special tour, where the group pays as normal, but instead of going into our coffers goes direct to our favourite charity - ITDG? (see the opening page) Why do it this way? Well I think the usual cycling charity ride has become a little discredited over the years. The idea that people would raise money and then I'd take out all expenses made life complicated - what were my expenses? How much could I legitimately take? Would people want to spend time stinging their friends and colleagues for yet another charity? No. This way everyone paid £350 direct to ITDG, no money passed through my hands to tempt me to 'skim off' expenses or complicating our already labyrinthine accounts. Riders would be given a sponsorship pack so the could collect money beyond this, but there was no obligation whatsoever, I'm well aware that some of the group will have 'cleaned out' their friends on several occasions already whilst others could plough into virgin territory.
So the die was cast, a one off charity ride was the answer, with £350 per person a total of £4900 was guaranteed to ITDG with no doubt much more to come.
So Where to Go?
I wanted a tour with some 'bite' in it. No-one would find it easy to get sponsorship for pottering around the Loire valley, or going wine-tasting in the Dordogne. There was also a significant sub-text. Over the years I'd run several tours to the mountains of France, the Alps, Auvergne and Pyrenees. One of our regular cyclists, Jennie Johnson, I'd always thought of as being tailor made for such a trip - lean, fit and with good stamina, but she'd always said she'd hate it and would never come, I saw this as a challenge. During our September Led Trip to the Mayenne in 2002 I'd hassled her once more about it. It was yet another straight "no! never!". "But what if it was all for charity?" - I timed it perfectly, after several bottles of wine, and all around her saying "yes let's do it!" she fidgeted around and said "Under the influence of sun and alcohol I'm not promising anything". From that moment on she was doomed, and for that matter so was I. The commitment had been made, there could be no backing out on my part, and I made sure it applied to Jennie too...
And of course it had to be the Pyrenees, nothing else would do, including of course the 2115m Tormalet, the most famous mountain in cycling.
No area in the world can rank with the great cols of the Pyrenees when it comes to fame as a cycling route. The result of the greatest cycle race in the world, 'Le Tour' is, more often than not, decided in those few days when the cyclists brave mountain roads that take them to 6000 feet and beyond. But its fame as a cycling race-track is not the only reason for choosing this as the route for our charity ride. As well as being being a challenge to cycle, it has some of the most beautiful and spectacular scenery in Europe. If the weather held it'd hurt, but it would leave us with views burned into our memories that none of us will forget.
Planning
The trip would have to be in the second two weeks of September, at the end of our season - on the last Saturday of the season I'd drive down with all the bikes to the campsite at Biarritz, our start/finish point, chosen because of its proximity to the airport and railway. It would allow for several days parallel to the mountains before turning into them for the return via the cols. The dive out of the mountains would take us to Biarritz on the final day. The plan was that once in the mountains we'd ride up a col every morning with the downhill and recovery in the afternoon. So in March I sat down and planned the route in detail. It's not normal for me, usually I like to do tours on a wing-and-a-prayer with vague targets linked by on-the-fly planning. This time people had to be able to give a route to sponsors so that they could be sponsored per col. In the end the route worked out and the discipline it imposed took some weight off my shoulders, but meant some hard days.
What to expect? - I'd been here several times before. Though it was mid to late September the weather could vary from torrential rain, snow, ice, hurricane force winds, to blazing sunshine with temperatures in the low 30's centigrade. I'd made enough mistakes in the past to know what personal gear was needed, (thermal underwear and ski-gloves for starters) so I made out equipment lists for everyone.
Equipment we supplied - Here I was happily on solid ground. We've always used bikes capable of just about anything, and well up to real mountain touring with full loads (did I mention that there was no vehicle back up?). We had a new batch of 'BB Specials' for 2003 and I made sure their gearing was as low as possible and special attention was paid to the brakes, especially the touring bikes (drop-handlebarred bikes) which had the new Dia-Comp V-Brake compatible levers fitted. I had every confidence they'd be fine for the job. Our philosophy on tents and sleeping bags is the same as for bikes and so once again we could draw on normal Breton Bikes stocks for equipment, though I did buy several extra one-person tents. Everyone also took cooking gear - hey we were going to rough it!
The summer flew by. All the time during the season the Pyrenees loomed before me, sometimes as incentive to get though the season, sometimes as a worry as to whether it'd all go according to plan. As finally the day came to pack the bikes on the trailer and begin the 8-hour drive to Biarritz I have to admit to some anxiety. But one thing kept me confident, the knowledge that the I was going with a very special group of people...
The Runners and Riders...
During the 12 months from that first drunken campsite commitment and the 'off' the group changed somewhat. Many wanted to join but priority first had to go to those around that campfire and other regulars on the trips. As the time for the trip grew nearer some had to cry off, family commitments, work/business reasons and some out of fear, but in the end the group numbered the planned 14 + me - something that surprised me for one! As for those that had to pull out, you missed the adventure of a lifetime and your presence was sorely missed by us all, but in pulling out you allowed others in who in the end made the trip as special as it undoubtedly was.
So on to the staunch characters that finally made it to the start point in Biarritz.
Me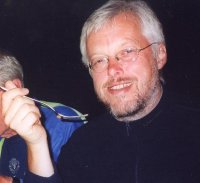 As team leader and organiser of the whole thing (cynical laughter from the group). I get the first mention.
A youthful 43, 6' dead, prematurely grey (you need to ask?) and constant worrier. I've cycled all the cols several times so in theory should be in fine fettle. The downside is that because I have to be on-call all summer I can't cycle, so hit the Pyrenees without having ridden a mile for 4 months, and precious little since the previous September. A planned assault of a few cols in April was thwarted by atrocious weather so I arrived at base camp with only a few hours on a turbo trainer under my belt and rather too much above it. My belief that mountain climbing is 80% technique, 20% fitness was about to be tested. I was viscous in editing my pannier contents but the bike still felt damn heavy... On that subject I was the only one not to be riding a BB Special, my steed being my 11 year-old Bob Jackson lightweight. With skinnier tyres it rolled a little faster than the BB's on the flat, but with higher gearing and much less grip for the downhill hairpins it wasn't the 'edge' I'd have liked. During the next two weeks I often wished for the bottom gear the BB's had...
Jennie Johnston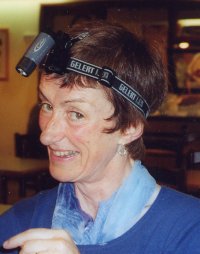 As one of the reasons for doing the trip Jennie gets first slot, she also acted as treasurer for the ride, a lot of work for her - thanks... She's done many trips with us and generally looks after me and any other suffering cyclists. Sees herself as a victim of a carefully worked plot and she's right... When I say her cycling is 'steady' I mean she could ride all day, just the sort of stamina you need, if only she believed it too...
Allan Lawton
13 years ago Allan came on our very first tour with his 12 year-old son riding one of our tandems, he had a wonderful trip apart from a Porsche driver trying to kill them both - this time it would be a truck. Since then his son Stuart has been a couple of times, but Allan has never missed a tour. A powerful cyclist who never seems to be working hard, I always see Allan as a rock at the heart of the group, never complaining, always soaking up whatever experience the road offers. I couldn't have imagined going without him. Having been with me on a Pyrenees trip 12 years previously he knew what to expect. He might have worried but I didn't...
Jeff Smith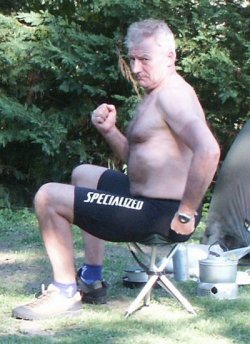 Jeff's fourth trip. Jeff isn't built for climbing. Climbers are skinny/wiry people pared to the bone. Just watch the Tour de France next year and see all those muscle bound sprinters grinding up the mountains and being swept up by the sag-wagon. Jeff is built like a sprinter or a rugby wing-forward. He also had the most staggering amount of luggage, so much in fact that he couldn't close his panniers properly. He had never done anything like this before. How is it then that he was first to the top of every col? Sometimes there's no justice... (luckily for Jeff there's no drug testingJ )
Evelyn Beale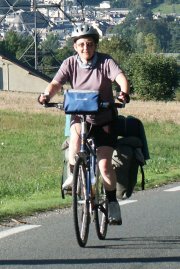 Evelyn is 5' in her socks, not by any means a powerful cyclist and doesn't normally cycle a lot. But 12 years ago, she'd persuaded me, against my better judgement, to let her come on our first ever Pyrenees tour. On that trip her motto was "I never push" and neither did she. If I was reckoning on 'technique' to get me up, I knew that Evelyn would do it on sheer bloody determination. She also has another reason for coming, as she was raising money for her own charity, set up in memory of her life-partner Richard, which is collecting money in order to provide a fishing lake with access for disabled children. If you want to know more about 'Little Owl', read about it here. Her account of the trip can be found here
Rob O'Connor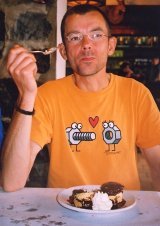 Rob is another long-term Breton Biker, this being his 10th ride with us. Manic Manchester United supporter and only just the right side of certifiable. A typical climbers build, Rob would always be near the front whilst fully exploiting his unmatched knowledge of expletives...
Meryl Oliver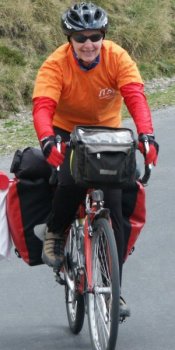 Known as 'thunder thighs' and with good reason. Though only her second trip Meryl had already showed she could out-cycle me (no great feat in truth) and most of the men in the group. Very experienced tourer and confessed to having done some smaller cols in the Cevenne earlier in the summer - we all considered this to be cheating.
'Chip' Bell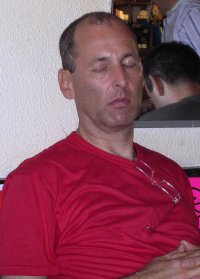 Chip is a Southern gentleman - he even says "y'all". Sadly he couldn't persuade his lovely wife Suzie (known as 'Mrs Chip') to come so was out on a long leash. As the person who'd come the furthest he'd obviously been training and looked disgustingly fit. But true to his generous nature he'd decided to level the playing field by bringing his own 'saddle' which weighed almost as much as the bike and meant he had to ride with his saddle an inch lower than ideal. He swore by it, I tried it and just swore...
Frank Lucas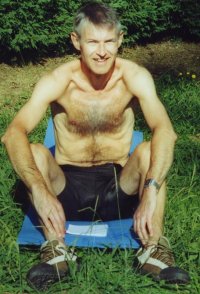 Sheesh! another skinny, fit hillclimber - Frank had even managed to get out of his job so he could train over the summer. The antithesis of a dour Scot he's been in the mountains with me before and so knew what to expect - perhaps the reason for the training.
Alister Guy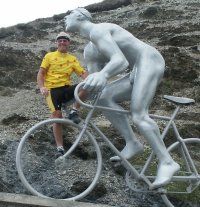 If Rob is the right side of certifiable then Alister is somewhere in the distance - on the other side. 'Discovered' fitness a few years back and so now cycles 400km Audaxes and runs marathons - for fun! Spends most of his time riding away in the far distance singing "bibbidy, bobbidy, boo!" which in my book is reason enough to get the men in white coats out. It appears a liquid intake of 2 litres of diet Coke a day may have something to do with this manic energy (don't try this at home kids).
William Garignon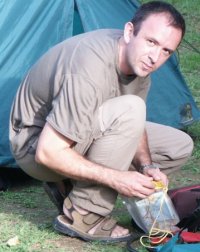 William is one of my closest friends and is, of course, French. When someone pulled out four weeks before the start I gave him the hard sell and he gave in. The baby of the group (32) William didn't ride a bike, had never ridden a bike with panniers, and had no idea of what to expect or time to train for it. I had hoped this would mean he'd be company for me at the back - some hope...
Liz Brown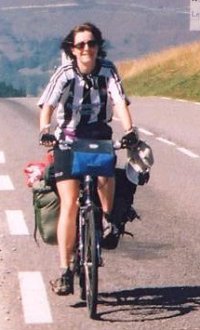 Having been on three Breton Bikes trips with her sidekick Jan, Liz decide that the Pyrenees would be a cinch and over the following two weeks proved just that. Also proved an essential aid in teaching William the complexities and subtleties of British accents (there is no French equivalent) - we had a diverse range of them but only Liz had the rare variant known as 'posh' Newcastle...
Andrew Clark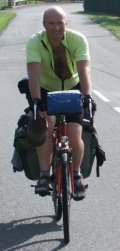 Discovered cycletouring whilst on a Breton Bikes tour and then proceeded to become an addict with the Alps, Pyrenees and a cross-Iceland romp under his wheels. I'd asked him early on at the planning stage whether he would ride shotgun, but a planned trip to Norway meant he couldn't make it. In the event he cancelled the trip but in a communication breakdown I failed to put him down on the trip until far too late when there was no space. Three weeks before the off there was a cancellation and with much relief I asked him to come - he said "yes" but it left him with no time to train...
Bridget and John Wilson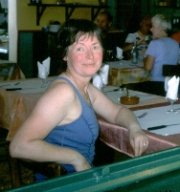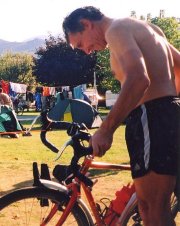 Our only couple, Bridget and John tried to come on one of our trips last year, but were thwarted by a fall off a bike which broke Bridget's collarbone. I was nervous about allowing Breton Bikes 'virgins' on such a trip but they promised they'd be fit enough. On arrival it transpired that both were keen runners, John regularly competing in fell runs and marathons with Bridget not far behind. From day one it was obvious they would fit in beautifully with the group and after two days on the road it was plain that they'd both be waiting for me at the top of every col - sadly events were to make this impossible.
The Ride Begins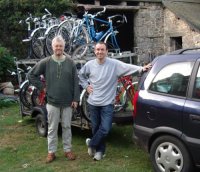 Day 1 - Saturday 13th September 2003
The start point for everyone was Camping La Parma right by Biarritz airport. Chosen because it was so easy to get to by rail or air. My day began at 9.00am when William and I set off with the trailer of bikes behind my trusty Zafira loaded to the gunnels with gear. I'd thought an 8 hour drive would stretch my French to the limit, but we chatted animatedly for 5 hours non stop before I finally put some music on the tape player. William was great company but the speed he shot out of the car to have a fag ever time we stopped for a pee (the only time we stopped) showed that perhaps I was not his ideal travelling companion. I assured him that on the cycling trip we would actually stop occasionally for a meal, which cheered him up somewhat. He just had to put up with my aim to get to Biarritz as directly as possible so I'd have some time to get everything done in the early evening.
Finally swinging into the campsite after 800 kms we were greeted by the sight of a small group of the gang sitting by the campsite pool sunning themselves in beautiful weather. There followed the usual manic couple of hours assembling bikes, putting up tents and generally getting ready as in small groups the remaining cyclists wandered in.
All but Rob had decided to plan their journey to arrive in good time to have a meal in a restaurant - Rob had a plan where he would avoid the rush at the London Airport by taking a late plane and arriving at 11.30pm. So once everyone was sorted out we set of the 1/2 km to the nearest restaurant, a rather impersonal chain affair, and had a surprisingly subdued meal. It's often the way that a group is a little quiet on day one as the 'ice' is broken, but despite the fact that most people knew each other I think the apprehension about what was to come did rather take the edge off things - dinner wasn't great either...
So around 11.00pm we wandered back to the campsite and soon after Rob arrived. He'd phoned us from Paris to say he hadn't found any food and could we get a doggy bag - so we handed him a manky sandwich and went to bed.
But not to sleep...
As we'd arrived back at the campsite there started up the most incredible noise as some very poor live bands with very loud PA systems thrashed out into the night. Stuffing in the earphones of my walkman and listening to an episode of 'Rumpole of the Bailey' kept me sane until the subsonic vibrations died away at 3.00am.
Day 2 - Sunday 14th September, Biarritz to Salies-de-Bearn - 61kms
The Off...
I hate Sundays. It's always a constant worry as to where I'm going to find some sort of food for the group - "feeding The Five-Thousand" was a cinch compared to making sure each member of the party found a LOT of food at the correct time on each day. Sundays are of course the worst case scenario with so much being closed.
But the first meal, 'breakfast' was easily sorted as we went back to the restaurant that we'd frequented the previous night. This was a 'help-yourself' buffet and so our band of cyclists, who'd been warned that this "might be the only meal of the day" took me at my word and plundered the breakfast table mercilessly. It certainly made up for the small portions the previous night (and wiped out any profit the restaurant may have made...). Posters on the door of the restaurant explained the rowdyness the previous night - a bikers convention with live music and plenty of strippers - if only we'd known...
Ho hum....
So with everyone very full of both croissants and 'buzzing' on coffee we took a photo at the campsite entrance of our happy band suitably attired in our ITDG T-shirts and set off.
I hate navigating out of towns on day one.
Normally I avoid any big towns like the plague, but as airports aren't usually found in country villages I'm invariably forced to navigate a trusting group of cyclists out of the metropolis using a Michelin 1:200,000 map and a compass. Chip had picked up a street map from the tourist office the previous day which would have helped if it hadn't been drawn in 1935 and ignored all the one-way system. Soon I resorted to the time honoured practice of finding the river and tracking along it's bank (there's always a road/path) until the urban area thins enough to find a route.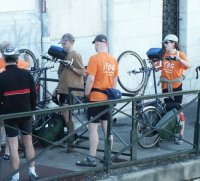 The main river is the Nive and this technique proved particularly successful as it took us north through Biarritz. OK so we had to push along part of a footpath and over some 'anti-cyclist' obstacles, but at least soon after I could shout "ha! A signpost for Urt" at all the sceptical group members still lifting their bikes over the barrier. My navigational credentials restored we followed the road out of Biarritz and on to Urt.
And it was a truly gorgeous day. The traffic thinned, the road was good, the group was seriously relaxed and happy (as I'd assured them there were no big hills and it was short). We followed the river to Urt and on - here my credibility took a tiny dent as we found we were on the wrong road. My map covered the entire route for the fortnight except for a tiny 10 kms stretch as far north as we would go. Of course I was by now navigating by the sun (the last resort of the desperate) but finding myself back on the map assured the faithful that it was no further and much quieter than plan 'A' anyway. What I didn't tell them was that it took us up a stonking great hill into the pretty but apparently deserted village of Bidache. Several of the group were getting very tense over not having eaten for three hours (it's always my fault) but much to my relief we found sustenance here in the form of a bar that made us sandwiches whilst we watched the Grand Prix on the bar telly.
And so the afternoon wound by as we trundled to our ultimate destination, the campsite at Salles-de-Bearn, chosen because I though the town big enough to be able to feed fifteen cyclists even on a Sunday evening.
As it turned out we had hit the annual Sales-de-Bearn 'Salt Festival'. Now I know what you are thinking, but anyone who knows France will tell you that every village with a population greater than your average bus queue will cobble together a massive, rowdy and thoroughly wonderful fete on the feeblest pretext. Here there were 'salt-games' where a World-Champion-salt-carrying-team were crowned and a salt works brass band playing in the street. But more importantly the place was heaving with people, I'd guess 10,000 and praise be food was in plentiful supply everywhere. To add to my joy the campsite was cheap and excellent and there seemed no chance of a 3.00 am rave on a Sunday night...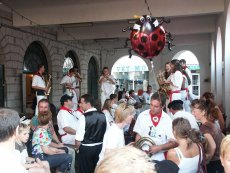 So we all split up and in small groups found fun and food in the festival - I ate with William and Allan in a gorgeous little scruffy restaurant and we snaffled 4 courses for 13e. It transpired that some of the others had god roped into some serious wine drinking by the locals at the fete but I think it best to draw a veil over that...
Day 3 - Monday 13th Salies-de-Bearn to Ousse - 80 kms
The Longest Day
Nursing very minor hangovers we set off back into Salies for breakfast, where Alister befriends the most flea bitten, mangy dog in France (where competition is fierce). Everyone moves away in disgust, it even puts me off my second pain au chocolat...
However I've got to be nice to Allister as I'd discovered I'd left my black (sexy) leggings at the side of the road the day before. I like to have warm legs when I climb and the thought of not having them was a bit worrying - Allister hands over a pair of very nice Cannondale leggings "I hate them you have them...". If he hadn't been stroking the fleabag I'd have shaken his hand at this point, but I was suitably and pathetically gratefull.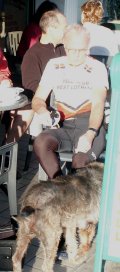 Today is the longest of the fortnight and deep down I feared it would be the hardest. The terrain wasn't flat (turned out to be 1000m total climbing), and we'd have to skirt around Pau, the largest town in the area. But once again we had glorious sunshine and so with spirits high we set off.
N.B. From now on let's assume the weather is gorgeous unless I say otherwise, it'll save a lot of typing...
As mentioned in the intro Evelyn is not a strong cyclist. She's OK on the flat, and when it gets really steep everyone is slow and her determination means she doesn't fall far behind. The terrain that does for her is rolling countryside where others are piling up hills in a middling gear where she goes straight into first and grinds up. On a short day this doesn't matter much but over a long choppy ride like today Evelyn can take a couple of hours longer than the others which makes things tricky. Do I stay with her (and Jennie who tends to keep her company - bless her) and leave the rest to create chaos on their own? Or do I hope she'll be OK and ride with the faster part of the group to be there to find restaurants, make sure they don't get lost etc?
In such a situation I tend to oscillate between the two, riding on then waiting then on and so on. It's not entirely satisfactory and it wears me out!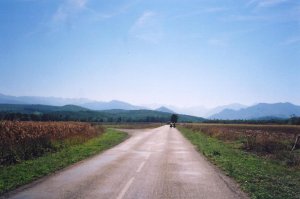 The ride was very beautiful this morning, but as feared once we left the campsite it got hilly. I'd arranged to meet everyone at Navarrenx after about 25k and here we all had coffee. It really was a gorgeous ride and I can remember phoning Kate and telling her it was "as good as it gets". From coffee we went up and over (several arrows on the map!) to the village of Mourenx. As usual my paranoia about feeding the mob had meant that after a while I'd left Evelyn and Jennie and pressed on. I arrived to find the rest of the group waiting for me - Rob had been there an hour and was going round like a chicken with it's head cut off saying "there's nothing in this flippin' (only he didn't say flippin') place, we've got to go on five kms!" I popped into the Tabac and the owner directed me to the restaurant 100m up the road:-) As it turned out Rob was right, we'd probably have been better off going on...
Anyway the Restaurant looked ideal - scruffy and full of local labourers. It sported a 9e menu for 4 courses and so I felt rather smug. I booked the group in as it was 12.30 and these places generally serve only up until 1.00pm. The owner, after a lot of teeth sucking, said he'd fit us in but we'd have to wait 15 minutes. That suited me fine as there was still no sign of Evelyn and Jennie. 10 minutes later they rolled up, relieved I'd found them a place to eat. Trouble was we didn't eat for an hour! In a tight schedule I could have done without it, but the meal was copious even though the second 'entre' went AWOL. The cook came out to ask if we'd like to have extra pasta - "does Dolly Parton sleep on her back!" - which was great and we quaffed the odd bottle of wine. More worrying was the fact that the cook ran everywhere, had mad staring eyes (which looked in different directions), and had disturbing flecks of froth at the corner of the mouth. Obviously 'barking', I decided not to argue with him over the bill when he charged us e13.50, I had visions of John Cleese with a meat cleaver. And with it getting late, 3.00pm, I really needed to get going as we had to battle with Pau.
Thankfully it wasn't too hilly and so for this tricky bit of navigation the majority decided to stick with me (thanks guys...). The small roads came to an end and we found ourselves on a very busy main road. The saving grace was the wide hard shoulder, so though not exactly pleasant it was safe and by following the 'Rocade' (ring-road) signs we hurtled around Pau, turning off onto a small road that finally took us to the small campsite at Ousse. By now it was 6.30pm and the campsite was very poorly marked. In fact Meryl, who had gone ahead, claimed to have been nearly abducted by a local Gypsy camp she'd thought was the campsite - something we all found funnier than her I'm ashamed to say. The site itself was right by one of the busiest main roads I've ever come across and the owner made us move our tents because we were taking too many plots and "what if a load of camping cars came in?" So we moved to one corner of the empty campsite and pitched up. The site had pretty ancient facilities and was the most expensive of the week - pricing in French campsites amazes me - but as it was only about 5e each the others didn't see what I was moaning about - "it's the principle of the thing!".
Though there was a small supermarket in the village the late hour meant that most of us decided to eat at the restaurant 200m up the road from the campsite. As usual I checked out the place first and booked us in but again my 'nose' was failing me. The place turned out to be very gourmet, and though not staggeringly expensive at 17e, the portions were for normal people and wine expensive. They didn't seem to understand that we needed to pack in as many calories as fast as possible so we could slope off to bed. The one saving grace was the simply stunning waitress who amused us all evening with her range of "please crawl under the nearest stone" facial expressions - especially to Allister who deserved all he got - he had much more success with the dog...
Knackered I slept like a dead man...
Day 4 Tuesday 16th - Ousse to Bagneres-de-Bigorre - 55 kms.
The campsite owner redeemed himself by providing a big breakfast for 3e - yum!
Another hilly day with 800m of climbing, but with no big towns, and wonderful countryside it was a lot nicer than the previous afternoon. Once again the dilemma of keeping an eye on everyone with such a diverse range of riding speeds came up, but William, who'd now proved to be a very strong cyclist, volunteered to go ahead to Montgaillard and find a restaurant. It's always tricky arriving in a village and asking the local restaurant to feed 15, at 10 minutes notice, especially if we arrived late in the lunch period. So happily I trolled along at the back and really enjoyed the ride - the roads were so quiet, the mountains beginning to loom around us and, sorry to mention it again, the weather perfect.
But time marched on and the split in the group grew 'til I felt a little worried. It was nearly 12.00pm and we were still well short of Montgaillard when I decided to abandon Evelyn and Jennie and press on to see how William had faired in his new role as 'provider' for the group. Half way there I passed a small bar where Rob and Andrew had stopped to eat - they find it impossible to pass any eatery after noon. Sadly I couldn't join them...
Getting to Montgaillard at 12.45pm (after some serious hills) I swooped into the square to find some confusion. A lovely looking half-full restaurant beckoned, but William, being French, wasn't satisfied with that and so had sought a personal recommendation from the local baker. The advice was to go on 3 kms to another restaurant... Bless him he'd rode on and booked the group in, but with Evelyn and Jennie well behind, and them not knowing where the restaurant was, I decided that I would wait in Montgaillard so that we didn't lose them. The others went off to eat with William. By 1.15pm there was still no sign of the wayward pair so I was getting worried. As the restaurant had tables outside I sat down to eat my meal alone and to fret. As you'd expect, the minute my first course hit the table the terrible two arrived. The very long, hilly morning had taken a toll on them and both were very tired and very, very hungry so I invited them to dine with me and we settled down to a really superb meal and a bottle of wine - much nicer than eating with the riff-raff:-)
At about 3.00pm the others came back into the square looking very smug and contented, but we tailenders didn't feel short changed...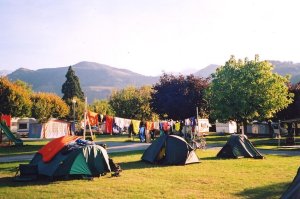 We were also feeling good because the back of the day was broken and a relatively short and easy ride took us into Bagneres-de-Baigorre for about 4.30pm giving us lots of time to do washing and lie around groaning and holding our full tummies:-)
Inevitably having decided to cook in we found a pizzaria in town and skulked back to the (lovely) campsite to eat them along with all the other goodies we'd bought in town. The calorie intake was increasing day by day!
Day 5 - Wednesday 17th - Bagnere-de-Baigorre to St Beat. 65 kms
To the foot of the mountains and disaster...
Packed up and breakfasted in the town we set off up a steep hill, but today was a bit special as it would take us right to the Spanish border and the base camp for the first attack on the mountains proper. By now the scenery was starting to get really spectacular and on the wide rolling road we kept overtaking each other as we took photographs - it really was a special ride. The photo here shows Bridget climbing out of Bagneres with her usual smile, little did either of us know that in under an hour she would be in an ambulance.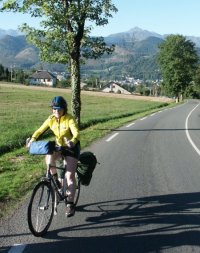 All seemed well, I'd got a little ahead of our usual tail-enders and decided to stop at a tiny bar and have a beer in the sunshine outside and wait for them. The froth had just touched my lips when my phone beeped to say I had a message (reception was patchy) - it was Frank. "Bridget's fallen off, she's banged her head and gone off to hospital with John - don't worry she seems OK and not too serious, I'm carrying on".
I couldn't get hold of Frank so leaving the beer I leapt on my bike and started to pile on to catch up. As I rode on the usual scenarios of what had happened, and what I'd have to do, kept scrolling though my mind, in the way that only a brain high on adrenaline and lactic acid will do. But no sign of Frank, abandoned bikes or wreckage...
After 10 km of flat-out cycling I hurtled into La Barthe-de-Neste. At the road sign waited Allan and Chip. "Where's Frank?" I asked, to be met with blank looks. They knew nothing. I was close to panic when the phone rang again - it was a breathless Frank to tell me he was just about to come into La Barthe! The last thing I'd though was that I'd been IN FRONT of Bridget, John and Frank, but they'd waited to take photos and I'd just not kept track of the riding order. Frank had been riding like a maniac to catch me up whilst I rode manfully away from him trying to catch him! 30 seconds later he hove into view and told the grim story. Bridget had lost control going fast down hill, got a wobble on and gone over the handlebars onto her head. Luckily she had her helmet on and it had smashed, cushioning the blow but she'd been unconscious for a few seconds. Frank had been flagged down by a motorist who'd sent him back, John had been just behind her. Frank thought she was OK, the bike was fine and so she'd be able to rejoin us soon. But I needed to talk to John...
By now the group were well split up but with things on my mind I rode to Montrejeau with Chip, Allen and Frank where the others were waiting for us.
My fast ride meant that now all of us, except for Evelyn and Jennie, were together and it was only 12.30pm. There were plenty of places to eat but I needed to find somewhere easily spotted from the road so that the two girls could find us. As it was we sat outside in very hot sun and eat a hearty meal, Evelyn and Jennie joining us after about 30 minutes.
After we were all well fed we set off on the last stage to St Beat, gently rolling and fast, I pushed my worries to the back of my mind by riding faster and faster. The skinny tyres gave me enough of an edge to leave the others behind except for William who resolutely stuck on my back wheel, slipstreaming. I wanted to get to the campsite as fast as possible so I could find the hospital phone number and hear if Bridget was OK. Swinging into St Beat I grabbed a beer with the others and then got the campsite owner to get me the hospital number, but just then my mobile rang and it was John. As I'd expected the hospital were going to keep Bridget in for the night as she'd been knocked out. They'd taken the bikes on the ambulance and I wasn't to worry about the gear as they had all that (as if). We talked about where and when they would rejoin, and he'd been in touch with Kate at our home.
Over the next few days this was the constant theme, the possibility of rejoining, the fact that she was out of hospital the next day. All in all not ideal and very disappointing, but nothing very serious, and all 'in-hand' because John was on the spot. It meant that though they we never far from my thoughts I could afford to relax about them and concentrate on getting the rest of the group over the mountains in one piece. Though it sounds callous I'm really glad that we never found out the seriousness of the situation until our return to Biarritz. When we met 10 days later Bridget was obviously still very shaky and John traumatized. For a couple who'd been so much part of the group, had raised so much money, and were obviously going to find the ride great fun, it was a tragedy.
There was another worry. John had said that he though that Bridget had lost control because the bike had developed a speed wobble and then she had braked in a panic, and with the powerful brakes fitted, gone over the handlebars. Speed wobbles are the bane of bicycle design, an uncontrolled shaking when the bike hits a resonance frequency. Various things can trigger it off, but generally it is caused by a whippy frame on a very heavily loaded bike. The 'BB Specials' had been in our fleet all season without problems, Bridget was on the smallest and thus stiffest frame and carrying far less weight both bodily and in gear than some, and yet none of them had had the slightest shimmy. My guess was that she may have been caught out by the camber of the road, French roads tend to slope steeply on the edge, and it would have been the right-hand curb rather than the left she would have been used to. Thus she may have run down the camber, corrected, gone down the camber again and sort of built up a wobble. It was a theory but not a very satisfactory one. In the next few days heavier riders would be coming off mountains at up to 80 kph, if one lost control the results could easily prove fatal.
That night I sneakily borrowed a 'BB Special' and tried to provoke a shake - they were stiff as farm gates, but it was still no guarantee. Over the next couple of cols my confidence in the design returned but until then I waited at the bottom of each col with some trepidation.
That evening we ate in camp - I forget what, but I had a lot on my mind...
Day 6 - Thursday 18th - St Beat to Bagneres-de-Luchon and The col de Portillon
Altogether now - "We're all off to Sunny Spain ...etc"
Feeling happier in my mind about Bridget I could concentrate on the rest of the group. It was rather nice to see nervous faces all around, I knew they'd all be fine, but it blew one of my "cunning plans". You see the run to the Spanish village of Bossost at the foot of the col was a good 15 kms and a climb of 200m - exactly the worst case scenario with regards to Evelyn as she would inevitably do the whole thing in first and so lose a lot of ground. I'd encouraged her to set off early, but as it was the others nervousness meant they were up and off even earlier! Thus it was that Evelyn and Jennie (who for once looked tired too) arrived 45 minutes after the rest at Bossost.
BUT now my theories were to be put to the test. I thought that with a short, relatively easy col we'd be able to have a bun and coffee in Bossost and still get to the top with plenty of time to hurtle down to Bagneres for lunch. Evelyn's unique experience and knowledge of first gear would stand her in good stead and she'd not fall too far behind.
Good theory eh?
So for more than half the group this was to be the first col of their lives, and I'd chosen it with great care. You see the Portillon is a small (only 1320m!) col but an absolute swine - but only from the French side. I'd done it that way several times before, but had always thought what fabulous views were to be had on the Spanish side. As anyone who's done col climbing will tell you, you always see a lot more going up than hurtling back down when you tend to concentrate on not going over the edge or going down a pothole.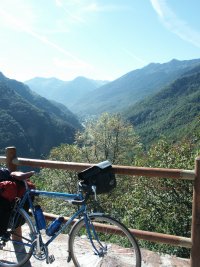 I was right. The climb was beautiful, and I didn't even have to use first gear. The views were gorgeous enough to make me forget my legs and at the top I was greeted by a bunch of grinning and relieved cyclists. Rob in particular was feeling good as the last time he'd come to the mountains with me he had 'died' on the Portillon (renaming it the "col de Portillo Bastard"). This time he'd stormed up.
But everyone was hungry.
The snag with the Portillon is that the col itself is a pretty scruffy affair in the forest with no views and definitely nowhere to eat. So I took the decision to carry on down with the group - Evelyn and Jennie couldn't get lost and I'd warned them I wouldn't wait.
So we all helmeted up and put on windcheaters - it's amazing how cold you get - and set off down the incredibly steep mountainside. Speeds varied widely depending on temperament and experience, remember only half had done anything like this before. Though a col virgin William rides a motorbike and hurtled off like a maniac whooping with joy, Rob hates coming off cols and crawled down shouting "you're all flippin' mad!" - only he didn't say "flippin".
Within 15 minutes we'd covered the 10k into Bagnerres de Luchon. A lovely spa town with a wide main street lined with bars, we got together and I led the charge to some tables outside a big bar/brasserie and perused the menu. It quickly became apparent that the waiter was in a state of some excitement. It transpired that there had been a fractured water main the previous evening and that the workmen had just arrived and were going to cut his water off - at lunchtime! Poor guy, but as so often happens he weakened and said he'd get food to us before the tap was turned - and it was excellent:-)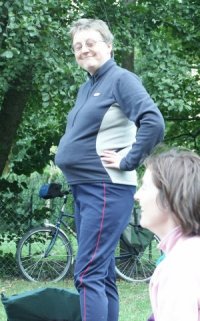 30 minutes Evelyn and Jennie rolled in, hot and tired and were given the good news that they couldn't eat with us. But unlike the first three days out of the mountains my paranoia about food had disappeared. The reason is simple - pre-mountains so much can go wrong, but once in them it becomes simple. There's only one road so no-one can get lost. The climb takes a morning so once completed it's downhill to the food and at the foot of each col there's always a town big enough to have choice. It's hard to explain but from this day on many of my obsessions disappeared and I could actually relax and begin to enjoy myself...
So though a little disappointed they managed to drag their battered bodies across the road to a small creperie where they troughed everything in sight for the next 1 1/2 hours...
After wandering around the town I gathered the gang and set off to the campsite 1 km down the road. I'd chosen this one as I'd stayed in it 3 years ago, and besides being excellent it was right next to a supermarket, and after 5 days of restaurant food I fancied cooking in. Arriving at the site I was greeted by the very nice lady who amazingly remembered me from last time (a complement?) and charged us the lowest rental of the week (2e each). As the place was spotless, beautiful and had a large swimming pool the crazy pricing of French campsites continued to amaze me...
Everyone was on a high after conquering the first col, and Evelyn and Jennie had a new theory, that by eating as much as they possibly could all the time they'd have more energy for the climbs. This left me a little confused as that's what I though they had been doing, but having seen what they came back from the supermarket with I realised that they were taking it seriously... See Evelyn after lunch!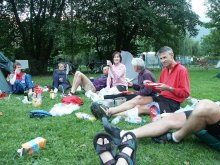 It's a fact that you simply can't overeat in the mountains - I guess we'd be burning an average of 5000 calories a day and for most people their digestive systems take a few days to get used to this sort of throughput. But once you've mastered the art of circular eating (like circular breathing but more disgusting) you do feel healthy, the throughput of food obviously containing shed-loads of vitamins and minerals even if you eat pizza every day. You also gain a quite staggering capacity for alcohol with no apparent ill-effects, though on a previous Pyrenees trip I'd overdone it and ended up falling-down drunk and had climbed the next days col practising circular groaning:-P
Day 7 - Friday 19th - Bagneres to Arreau - 33 kms
Hah! 33kms! Just the minor obstacle of the Col the Perysourde, at 1569m a 'proper' col and having started at 600m the best part of 1000m - straight up.
The saving grace is that the Perysourde is one of the most beautiful climbs of the week. It's not ruggedly spectacular like the Tormalet or Aubisque, but green and tree lined with switchbacks positioned for the photographers amongst us near the top. I'd not done it this way before - East-West - but I was quite looking forward to the challenge.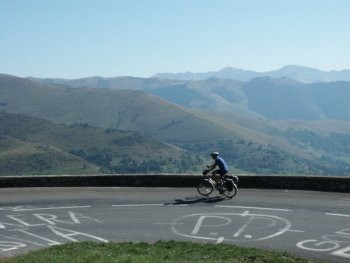 One of the secrets of mountain climbing is to go at your own pace. It's all too easy to ride next to a companion chatting away and then realise that you've been going faster than your normal pace - by then the damage may be done and you've dug into reserves you need later. The same applies to riding slower than normal in which case you don't get warmed up properly and by riding in a non-optimal way you can drain your resources in much the same way. I'd nagged the group about this and most took the advice. Jeff always set of first and powered up like his life depended on it. Next the trio of Rob, Liz and William tended to stick together as they rode at similar rates and seemingly had plenty in hand (swines). The rest would ride at whatever pace they wanted to, stopping for rests, taking pics or just grinding up as they felt appropriate, though Meryl never seemed to stop... By now I'd relaxed, and so practised what I preached and set off alone. On the way up I passed Chip a few times as he used the 'pile-on-then-rest' technique, though if it'd been me I'd have had to stop with a sore bum every ten minutes (see Day 1). I passed and got passed by Frank as he took umpteen photos and all the time I could see 'Thunder Thighs' powering up away from me in the distance. Allen took his usual, steady and seemingly effortless pace with the two spots of Evelyn and Jennie down below, but now climbing evenly and strongly - having seen what they packed away at breakfast I couldn't see how they'd got on their bikes... Andrew was just ahead of them practising my theory of technique over fitness.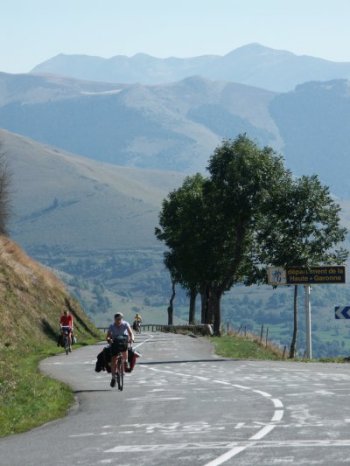 Unlike the Portillon, the Perysourde has a supert summit with spectacular views down to the valley we'd ridden up and ahead to the massive Pic du Midi (2872m) tipped with snow. There was also a little bar where a group of lycra clad racing cyclists discussed the ride and we all sat down for a beer as their back-up vehicle arrived to collect them (wimps). Five minutes later Allan arrived and gave the van driver a piece of his mind as he'd tailed him at 8 kph for the last couple of kilometers driving him nuts with his engine noise - wierd...
I sat outside the bar and ate sausage and chips, some of the group hurtled off down to Arreau to eat but a few stayed back to cheer Evelyn and Jennie to the top. Jennie soon arrived looking serene and five minutes later Evelyn hove into view looking a lot better than the day before.
The descent from the Perysourde is very, very fast. The road is fairly straight with few hairpins, so your speed is dictated by courage. There was a time when I would have hit 80 kms down here, but as I get older I seem to have more imagination. Maybe it's an illusion (I hadn't a speedo) but I'd put my maximum nearer 65 kms, fast enough for a middle-aged man with a wife and three kids... The skinny tyres of my old Bob Jackson, chosen to make the hills easier, didn't help my confidence, with a contact patch the size of a fingernail you tend to need more space in the hairpins than the fatter slicks on the 'BB Specials'.
Still it's a great ride into Arreau and I found the others in a restaurant (big surprise) and left them to it so I could pitch camp.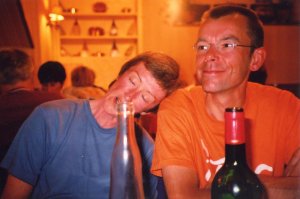 I'd not planned on eating a big meal that lunchtime because I knew there was a cracking pizzaria in town and booked us all in there - my digestive system still not ready for the climbers diet of two four-course meals a day...
As we were nice and early to Arreau, there followed an orgy of clothes washing as some of the group had begin to attract attention, and as well as a washing machine there was a chain link fence which makes a great washing-line...
I've talked about food enough I guess so I won't bore you with the details, but the Pizzaria lived up to its reputation and those who'd eaten a meal at midday seemed to have no problem gannetting down yet another...
Day 8 - Saturday 20th - Arreau to Campan - 24 kms
Bit of a cheat this... a measily 24 kms and only the col d'Aspin at 1489 to hop over...
The usual early breakfast of coffee-and-buns-in-a-bar, or for Jennie and Evelyn a second breakfast, having packed away enough for a month before leaving camp.
The Aspin is quite like the Perysourde in that it's green and beautiful with a nice top - but this time no bar:-( But today I screwed up... I'd already said to people that each of them was quite likely to have a bad day, and that it'd be regardless of the difficulty of the col - they'd just be 'off-form'. Today it was my turn.
I'm always hassling the group that they should eat well and carry emergency supplies in order to avoid the 'bonk'. The 'bonk' is a cycling term for the moment, when by continuous effort, you've gradually drained the level of glucose in your blood to such an extent that you simply can't go on - and it happens very suddenly, hence the name. Trained athletes can run into the 'wall' (their equivalent) but 'normal' people generally just stop long before they get to that stage. On a bike, because you can use the gears and pace yourself so well it's possible for mere mortals to do the same thing. It's not nice and I've seen people sitting dazed at the side of the road or wobbling from side to side on their bikes with 'dead' eyes. It's never happened to me but even before I'd really started to work up the hill I knew that something was wrong - I was in bottom gear but neither working very hard, or getting puffed. That might seem to be a good thing but it isn't, I just didn't have the energy to get 'pumped up'. I'd only had one bun at breakfast, but in my fussing over the others I'd forgotten to stock up on my standard emergency food - bananas. The false sense of security of an relatively easy, known col had tripped me up - they're all hard. I stopped at a couple of small shops in the villages at the base of the col but both were shut. I was in trouble. Andrew rolled up and had a square of chocolate which helped but then I remembered Jennie was behind me - she always has something.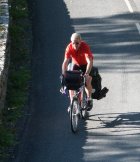 With a grin she extracted a small, brown shrink wrapped object, a slice of her very own 'Exceedingly Good Ring Cake' a concoction of dried fruit and alcohol with just the merest hint of cake mix holding it together. I was honoured, and gave it the respect, and destination, it deserved. In 30 seconds I was ready for anything and if the guys on the 'Tour de France' ever get hold of the stuff there's going to be some very puzzled dope testers out there...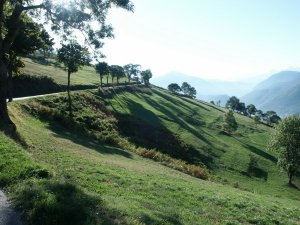 So like Popeye after a tin of spinach, a revived 'team leader' rejoined the fray and piled up to the top passing several of the group on the way - even 'thunderthighs'!:-P
Again the last km has some textbook switchbacked hairpins, each with breathtaking views and you could hear the chink of money going into Mr Kodak's coffers as we reeled off films to remember it by.
At the top we lounged around on the grass while crazy white cows licked the salt from our legs. Soon Evelyn piled up the last few metres looking more relaxed than she had any right to...
Apart from being a beautiful, and by Pyrenean standards, a not too hard, climb the good thing about the Aspin is that 2 kms down the other side (about 60 seconds for William) there is a cluster of roadside restaurants. We were there by 11.30, which gave an inordinate time for aperitifs, but we felt we'd earned them and the hard work for the day was over. Another five-course meal followed as soon as the waiter could lay the table...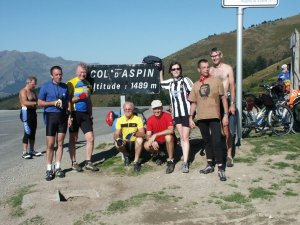 Wobbling off very slowly and carefully, for at least 1/2 km, we then picked up speed and freewheeled into Campan - one stop I was REALLY looking forward to.
The campsite is a nasty 300m up from the centre of the village, but is tucked in back from the road and we spent a lazy afternoon lounging in camp and watching a parade of ancient vehicles which were on the 'Raide des Pyrenees'. Some of these cars dated from the 1920's, and whilst admiring their confidence in taking these old machines over some of the most difficult roads in Europe I did wonder at the state of their brakes by the time they reached the bottom... Frank befriended a pair of moth-eaten donkeys and it also gave Liz chance to have a 'proper' shower which used all the hot water the shower block contained - burrrrrrrr!
Campan is the place to stop if you're going to assault the Tormalet (surely the other way round?). It's at 800m and the only road goes straight up the col. But best of all is the hotel in the village - the 'Hotel de deux Cols'. I've cycled the Tormalet three times up to this date and each time spent a fantastic evening in the restaurant. Not only is it small, personal and inexpensive, it also serves superb food in portions suitable for cyclists. But the piece de resistance is the Patron. He is the most amazing character - insulting and teasing his clientele all evening in three languages whilst managing to be 100% efficient and professional at his job. I really can't speak too highly of this place - he left us with memories that we'll all cherish, aching sides from laughing and full stomachs.
Full and happy we trudged up the hill in total darkness apart from the carpet of stars in a black velvet sky. Tomorrow would be a very different day.
Day 9 - Sunday 21st - Campan to Argeles Gasost - 51.5 kms and the Tormalet
The BIG one
The Tourmalet, as already mentioned is the most famous climb in cycling. 2115m, nearly 7000 ft and we were starting from 800m. So our biggest ever net gain at over 1300m. I'd done it three times before, but always from the other side and I feared that this was doing it the 'hard way'.
I reckoned on a three hour climb for me, and so planned a 9.00 am start, I didn't want to get there too early. The others had other ideas and most were ready for the off well before that, having eaten breakfast at the campsite bar. I watched them set off one by one, I was quite happy to be at the back - we'd all get there in the end and in time for a bit of lunch at the top.
So I set off alone - this first part being relatively easy for a couple of k and then steepening - perfect. Once again it was a very pretty climb, the sun was shining, I was doing what I loved the most and all was well with the world. I felt fitter than ever, really hitting a good rhythm and piling on - I even had a little sing-song to myself. As it steepened to 8%, then 9% and for a km 9.5% (all marked on the km signposts) I kept in second gear.
I was breaking every rule in the book... Pace, pace, pace! - what was I thinking of? Very quickly I found myself approaching La Mongie at 1600m and I realised I was in serious danger of 'blowing'. I was already feeling tired as I rolled up into the god-awful eyesore of a ski resort with it's neo-Stalinist architecture and tacky souvenir shops. But that didn't stop me from pulling up outside a bar and sitting down and drinking 1/2 ltr of lemonade and eating a banana.
Rested I started to get on my bike as Allan pulled up looking unflustered and better than I felt - he too was going to have a break - wise man...
Girding my loins I remounted and continued through the concrete sprawl of La Mongie - this eyesore being twice as big as it was last time I climbed here 5 years ago. The other big change was just as unpleasant. I'd chosen to climb on a Sunday because I'd hoped there'd be lots of other cyclists around. As it was there were a few but outnumbering them by some distance were camper vans. These underpowered, top-heavy things lumbered up spewing diesel exhaust and came down with stinking brakes. The biggest things on the mountain (lorries and coaches are banned), what had five years ago been a quiet climb was now like some caravan club outing - I'm sorry if I offend anyone but these things shouldn't have been on the mountain. Looking up, La Mongie seemed to extending up whilst the concrete monstrosities at the top multiplied downwards. The km posts lied to me as well - 3 km to go, 300m climbing and average 8.5% gradient. Now the French aren't the greatest cartographers in the world - but now their maths seems to be falling apart. It sure as hell felt like 10%, bottom gear and working hard. In fact I was now beginning to suffer for my foolishness earlier. I was starting to cool down, my breathing and work rate falling as I tired - I don't think I was getting the 'bonk' but just running out of steam. But I wasn't worried, I could see the top, I knew I could make it, so just concentrated on staying as smooth and steady as I could. The danger is that as you get tired you lose your rhythm and start 'stabbing' at the pedals which wears you out.
Anyway sure enough I got to the top to be greeted by most of the gang sitting drinking beer. Behind me was Allan, Andrew and the usual two suspects, but one after another they arrived, all looking fresher than I felt, including Evelyn who'd only dropped 45 minutes on me during the climb... Meryl looked disgustingly fit and unflustered in particular...
We ate at the top, took the usual pics, but though it had to be done I don't think it was anyone's favourite, busy, ugly and neglected by turn. The hideous sculpture of a cyclist - who looks like he's just been kicked in the nuts - dominating the scene. It just emphasised my belief that climbing up the other way, from Luz St Sauveur is much nicer.
One noteworthy thing about the top is a small plaque under the 'suffering cyclist' sculpture. It commemorates the first time the Tormalet was part of 'Le Tour' in 1911. The winner of the stage had to cycle over the col at a time when it was a dirt track, on a single speed bike. The stage only finished after 360 kms. It took 14 hours. Reading it made us all feel very, very small...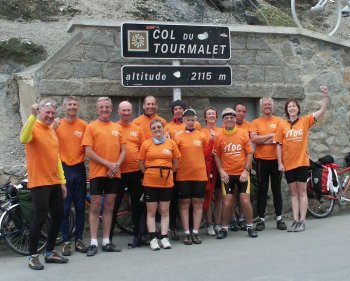 Suitably chastened we then did the easy bit - very quickly...
Swinging into Luz we stopped for coffee and bun before even more downhill to the campsite at Argeles. This was a huge affair (cheap too) with swimming pools, bars etc etc. But it was very poorly signposted and we had to ask directions. When I asked the owner why there weren't any signposts she said that all there were lots of signs if you'd come from the other direction where most of their custom came from.... Think about it...
That evening we found a lovely restaurant who also agreed that Rob and Allan could watch Manchester United and Arsenal try to kick each other off the park - Not a good advert for British football, especially that missed penalty Rob:-)
Day 10 - Monday 22nd September - Argeles to Laruns - total 45 kms.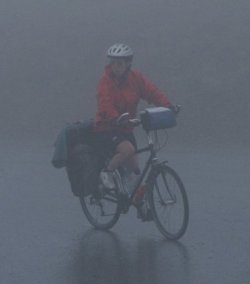 Back on familiar territory, I done this climb last time I was in the mountains and looked forward to it. On paper it's daunting, two big cols in one day, but both are very beautiful and the ride from the Soulor to Aubisque is along the corniche road, to date the most stunning road we'd ride on. This means that having conquered the Soulor we'd only drop about 100m before climbing the Aubisque. Still in total it would be much the same climb as to the top of the Tormalet the day before.
By now everyone seemed to be in the groove and just hunkered down for the work needed to get to the top. The only cloud on the horizon were in fact the clouds on the horizon... I promised I tell you when the weather changed, well it happened today. Not that it was bad, but we could feel it closing in - to be honest we were all a bit burnt by now so a day of shade wouldn't go amiss and make it an easier climb. Hey it was a cinch anyway;-)
The bar at the top made us sandwiches which we devoured, But my now things were closing in and Jennie just made it before the heavens opened. Evelyn was just-a-little-too-late, see pic... Just prior to this I sent the others off to avoid the worse of the weather whilst I manfully waited - as it was they got soaked. It was the works, thunder and lightening included:-) I guess my name was mud.
After Evelyn arrived, Jennie and I waited with her for it to clear - I really considered it too dangerous to go on, as the corniche is very exposed and Evelyn looked tired. After an hour I decided they should go down the other side of the Soulor and then I'd go on (heroically) so the others wouldn't get lost/panic. The plan was for them to meet up the following day. So we put on all our wet weather gear, were actually saying goodby when the clouds cleared and sweeping away to our left was the Aubisque corniche. I looked at them both, smiled and said "lets go for it".
They're a game pair:-) What a decision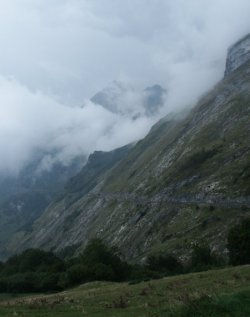 Sometimes things are 'meant to be', and this was one of those occasions. Two years ago to the day, Evelyn's life-partener Richard died. As mentioned in the 'runners and riders' section one of the reasons Evelyn had come on the ride was to raise money for Little Owl, the fishing lake for disabled that had been one of his projects before he died. It meant it was an important day for Evelyn, and for the first time she talked and laughed about him as we cycled over one of the most wonderful roads in Europe. The weather wasn't clear, more Tolkeinesque with swirling clouds giving weird scale to the landscape. It was a very special ride - with special people, and I for one hardly noticed the climb as we finally crested the Aubisque. Thanks girls...
So down the other side - a dramatic rugged descent, twisting and turning though the rocky landscape and down to Laruns.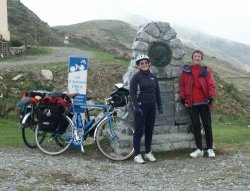 Laruns is a lovely little town with lots of campsites, but all that we looked at pretty scruffy and unappetising. In the end we settled for the least grim which was OK and friendly enough, but right by the main road, once again it was expensive... It was raining again by now and so after a lot of humming and haring we decided to walk back into the town to eat. The couple of places we tried threw their hands up at the thought of 13 people so we split and the fortunate went into a nice looking restaurant whilst the majority slummed it in a little formica and strip light pizzaria. It was wonderful! The owners seemed to be having a party to so we had a huge meal and quaffed an inordinate amount of red wine before the others joined us again to find us drunk and rowdy and very happy. We then all tottered off to bed:-) Oh I forget - Chip insisted that William translate the 'wide-mouth-frog' joke to the bar's regular cutomers...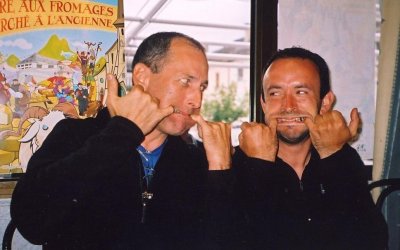 Day 11 - Tuesday 23rd September Laruns to Aramits - 41 kms and the puny 1035m Col de Marie Blanche
I've done this only once before and a climb, which on paper appears pretty easy by Pyrenees standard - only 600m altitude gain, no double arrows etc is in reality an absolute swine. The Michelin man must have been in a car when he checked this section - but I'm getting ahead of myself.
I woke to the sound of very gentle rain on the tent - it always sounds worse inside and a look outside showed people packing up, most not wearing waterproofs so it was the sort of rain that doesn't really get you wet, if you know what I mean... This misty drizzle cleared as we packed up and we cycled up into Laruns for the usual breakfast and route 'briefing'.
I warned everyone not to take what was coming for granted and made provisional plans for lunch. Unusually for a day in the mountains we would ride on for quite a while after the col so needed to find food at midday. I knew a really splendid restaurant right at the foot of the col in a village called Escot so arranged for us all the meet up there rather than the top. The severity of the climb would split us up, and the rather scruffy windswept top, devoid of shelter (read bar) was hardly suitable for a rendevous. The first there would probably have hypothermia by the time the tail enders got there...
The route to the foot of the col was 10km down the flat valley to the village of Bielle. The main road was pretty quiet but looking at the map, a little lane ran along the other side of the river through and looked a lot nicer. We set off together and soon it became apparent that the 'pretty' route was also pretty hilly. Jeff hurtled off up the first and after a moment's thought I decided to set off after him. After the first hill, having made no ground and feeling sick I eased off to find William on my tail grinning - so much for experience...
With William were the usual suspects of Liz and Rob and so we kept together up hill and down dale to Escott - by now it had started to rain enough for us to don waterproofs. I waited at the foot of the col and saw a few start, but it was just too cold and wet to hang about so I decided to set off safe in the knowledge that everyone knew the route, and that accidents/breakdowns (a big and risky assumption I know) excepted, I could concentrate on the ride ahead.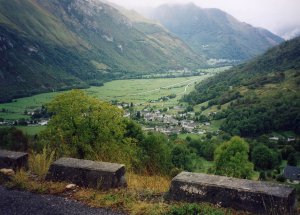 I stripped off all my waterproofs down to a T-shirt. It was cold and wet but I knew what was coming and didn't think that I'd be cold. The alternative was to wear the waterproof and get totally soaked inside it as well as overheated. Meryl had a page from some guide saying that riding up it from this side was pretty easy - I'd told her they'd obviously done it in the same car as the Michelin man... You see I'd class the Marie Blanche as a 'power col', for me at least. Most cols are steep and hard, but by pacing yourself you can get up them at a steady rate. 'Power cols' require real heavy effort, drawing on your reserves all the time rather than letting you cycle at a sustainable rate. It means you have to judge them carefully. Because you are forced to work at a rate greater than you are comfortable with you either have to have a couple of long i.e. 20 minutes+ stops to recover, or try to pile up keeping as pumped up as possible. I knew the col well, and that after the first 6 kms of killer climbing you reach the Pleteau de Benou - a wide open and surprisingly fertile area which runs pretty flat for 3 kms before climbing again. Plan 'A' was to storm the first section, recover 'on the bike' over the Plateau and then pile up the last bit.
Hitting the first hill I realised my memory hadn't been playing tricks, this was the steepest climb so far regardless of what the signs and map said. But thankfully after a week in the mountain I was hitting some kind of rhythm and the result was that once warmed up I found myself making good progress. I even saw the gang of three - William, Rob and Liz well ahead but not pulling away which made me feel very smug. As always you can't believe how fast the little villages at the foot of the col fall away as you wind up the hill. I had music in my head - Led Zep's 'Communication Breakdown' which gave me a good cadence - better than Allister's "Bibbidy Bobbity Boo!" anyway...
As I'd hoped I was staying warm enough, though it was raining with intent by now. A baseball cap kept the rain off my glasses, but what the rare car drivers must have thought of the strange figure on a heavily loaded bike, wearing black stockings, a T-shirt and a baseball cap in the pouring rain I shudder to think. After 4 k I saw a wizened old shepherd in the distance leading his sheep up the road whilst leaning on a stick. It took me 10 minutes to catch and pass him - which gives you some idea of how fast my 'piling-on' was.
But though feeling a bit knackered as I crested the first rise and onto the Plateau, it was a pleasant knackered, rather than that awful drained-of-all-energy feeling you get sometimes. The wind was now biting across the plateau so I donned my waterproofs and saw Allister coming up behind looking strong - but as I was freezing to death I decided to press on.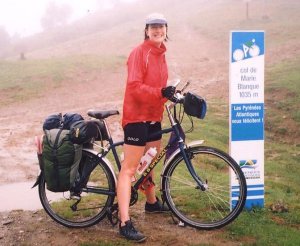 The Plateau is really pretty, the sort of fertile valley that seems to be a hidden feature of mountains everywhere. In the end I rode it quite quickly to keep warm and soon the front wheel was once again pointing skyward as the road steepened. This bit was harder than I remembered and for about a km matched the bottom of the col with some viscous hairpins. But I knew the col was beaten, and when, 2 km from the top the road flattened again I remembered how it became much more of a corniche road up the final stretch to the col - in fact I got cold again. Then the col sign can into view, it's a scruffy undistinguished top, with scattered evidence of logging and no redeeming features. It was raining quite hard and I was cooling fast but I waited for 10 minutes for Allister as I knew he wasn't far behind, while I waited I got my camera out for the col pic, and stuffed it back in before it got wet. I also donned my wet descent gear - i.e. everything I owned - but my hands were so swollen and cold I couldn't get my ski gloves on, and in the end, swearing, I stuffed them into the pannier and put back my soaking string backed cycling mits. Allister then came up to me and I informed him I was off:-)
The descent was fast, bumpy, wet and cold - great fun... At the bottom there was a 3 km 'lumpy' ride to 'my' restaurant in Escot. It was shut. Not as in "closed till 12.00am" but "closed forever". Bugger. No sign of the leaders of the gang either. OK. Thinks... It's a small village, but it's on a main road so there'll be a restaurant. Trouble was if it was off the route one iota everyone would just sail on blaming me for leaving them starving to death until they reached the campsite or fell-off-the-edge-of-the-world...
So I set off on the route into the main part of the village on the main road. At the junction there was a very scruffy bar and three bikes outside - great I haven't lost them all... Inside were the usual suspects of William, Rob and Liz. William had asked the bar owner about a restaurant and been told there wasn't one for 10 kms. I took him out of the bar and pointed to the restaurant sign 100m along the main road. I left them and checked it out - full of lorry drivers it looked perfect so I booked us in explaining that we'd be arriving over the next hour and the owner said "pas de problem" I could have kissed him...
Freewheeling down to the bar I gave the three the good news (Rob was getting desperate by now) and sent them off. Next problem... Where were the others? Jeff I knew had hurtled off leaving William & co behind when he'd learnt there was no food, but I'd expected at least Allister to be there by now. I cycled back to the junction with the closed restaurant - no sign. I waited for 15 minutes. Nothing. Back into the village, up and down the main road for a km to see if somehow I'd missed them (ah! the 'loneliness of command'). So either they were dawdling, the tough climb had split them up completely, they were lost, or had died on the descent. 'Bugger it I'm hungry'. So off to the restaurant:-) We'd left a trail of bikes from the junction to the restaurant to the main road junction, so I couldn't really do more. Of course the minute I stopped flapping about they began rolling up all looking knackered but with big grins at the sight of the restaurant. It was a big spread between fastest and slowest, well over an hour on a short col which shows how severe it was. For once it was Meryl who's suffered, I guess the sheer power needed to keep the wheels turning had cracked her usual steady rhythm - anyway she looked all in. Jennie, Evelyn and Allan rolled in but looking fine so I guess they'd stolen a lift somewhere...
The meal was perfect. five courses with a great big filling soup as starter. Second starter was a quiche, the best we'd ever had and then masses of chips! Cheese, desert and a vat of wine - 9.00 euros, and the lady doing the cooking came out to chat and really make us feel good - a special meal - thanks. Cyclists take note of where it is.
Very full, slightly drunk and pretty happy we wobbled off for a relatively easy 15 kms to the campsite at Aramitz, a place I'd camped at several times before. We'd bought food at a little supermarket first and quite incredibly managed to eat some of it that night. Of course none of us gloated to Jeff one little bit...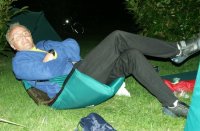 At the little supermarket I tried to instigate a "tackiest souvenir of the trip" competition, but then I spoilt it by finding an egg-cup in the form of a Swiss (!) St Bernard with a hole through his head from ear-to-ear where lodged an egg spoon. This was so ghastly that everyone gave up the contest immediately, my little Rosie uses it for her boiled egg every day:-)
Day 12 - Wednesday 24th September - Aramits to St Etienne de Baigory - 58 kms
When I wrote to the gang at the very beginning of this epic, describing the route I said this would be the killer day. Look at the map and there are no cols, and a pathetic two single arrows in the whole day. If the Michelin man had been in a car the day before he was 'out to lunch' today. Four years previously I'd done this ride and it had been wet and miserable with visibility down to 10m for much of it. On the steepest section one of our stronger riders had fallen off when his pedals had stalled and he couldn't get his foot down fast enough. My guess is that at it's steepest it's 13-14% which is a triple arrow, and it's not a lot less than this for much of the climb. There is a col when you get to the 'top' then a further 200m+ climb to another, this time 'unmarked' but classic looking col making it a good 1000m of climbing. To make things worse there's no food for 40kms, not a bar, restaurant or even road-kill - zip...
Fun eh?
This time, after the Marie Blanche everyone was forewarned and treated the (hawk-spit) Michelin map with the contempt it deserved...
The campsite provided an excellent breakfast and we set off. 1km down the road the campsite owner hurtled up in her car to the front of the group, thinking we'd done a 'runner' over the bill - as usual everyone pointed at me and waved their arms so she came back to remonstrate as her husband hurtled up in another car to tell her we'd left the dosh on the breakfast table (as in every other establishment) much merryment all round...
I was feeling a bit queasy, probably a reaction to all the food and effort that my body was unused to so I stopped for a mineral water at Montory after 4 kms. Here Rob found a T-shirt that he simply had to buy (see his 'biog') - very tasteful...
It took 12 kms to get to the village of Tardets-Sorholus where the road did it's 'Jacob's ladder' in front of us. Boy was I right - it was every man/woman for themselves as we crashed into first gears and started to grind up. Though I waited for most at the bottom before starting, once again I was forced to abandon the slower riders - I just don't have enough in reserve to do anything but to look after myself and survive on a climb like this - if the worst happened I'd go back in a taxi...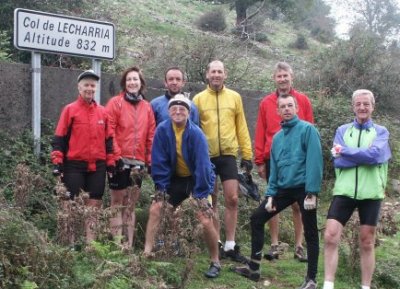 As I remembered it was bastard steep. There's something depressing about pushing as hard as you can in bottom gear knowing that if steepens there's nothing left, the 'missing bottom ratio' on my bike didn't help either. But to be honest I was rather pleased with myself and felt pretty strong. The weather was drizzly but OK and so it was much more pleasant than last time. As the endorphins cut in I was even enjoying myself. As cols go it's not spectacular, you'd find much the same scenery in places in England and there was little impression of altitude. But yes I was having fun... I finally reached the others all waiting looking shell-shocked at the col sign 'Col de Lacharria' at 832m. Meryl looked wiped out - she'd set off very early after yesterday and I think she'd suffered on the climb. There was no sign of Jeff, who'd gone on as usual, or Evelyn and Jennie who were no doubt a long way back as I'd started with them and climbed quite fast. Trouble was it was cold and wet so I decided to push on, it was imperative that at least some of us get to a restaurant to book the rest in as at the current rate we'd be very late - too late to eat. The girls wouldn't get lost, they'd have to catch up later.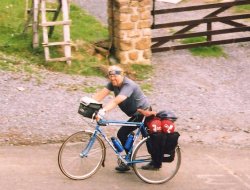 Giving the others the happy news that this was far from the top, we set off down (yes down!) the other side for some time before we hit another open, wind-swept plateau. This climbed gently then progressively more steeply up to the second 'col' at (I guessed) around 1000m. I was still feeling pretty strong and what with the adrenaline of worry was piling on a bit. Then I saw the top and began to hallucinate. There above the col shimmered the apparition of a large Auberge. I blinked a few times but it was still there. Last time I'd come the visibility had been so bad we'd cycled straight past without seeing it! And praise be Jeff's bike was outside without Jeff, so either it was open or he'd jumped over the edge in desperation...
Yup open. 15 euros for four courses (I'd have paid 50) and room for us. YES!!!!!
Looking back I had the pleasure of watching rider after rider coming up and bursting into huge grins as they realised what was in the offing:-)
A short note here. The 100m road from the col to the restaurant was on a 1 in 4 hill. I was fully capable of riding this, but at a critical moment a Griffon Vulture (2.5m wingspan) floated 10m over my head and so I stopped and shouted to the others (who were watching from the balcony of the restaurant) to "look!". The subsequent pictures of me to be found on this page and distributed amongst the group, of me pushing my bike are not a fair reflection of what happened. I could have ridden up, but I couldn't restart. OK? Everyone happy? Had your little laugh at my expense? - Good...
Ehem...
So we waited for a while and drank beer. Every so often I'd pop out and look down on the others arriving and at the vultures. It was clearing and the views were starting to look pretty spectacular as shafts of sunlight cut through the clouds - Beautiful.
We sat down and the meal was bloody marvellous and all the better for being unexpected. We'd just started to eat our first course when Jennie and Evelyn walked in - knackered but happy and once again looking better than they had any right to do, maybe they knew something I didn't.
As usual we ate like horses and talked about the climb. Even Jeff said it was the worst hill he'd ever come across which was some doing. When time for desert came Chip was amazed when a diner next to us sent back his when he saw the great slab of Gateau Basque his companion had ordered - and the waiter took it as a complement. Of course we all had Gateau Basque.
We didn't want to leave but the sun was getting seriously interesting outside.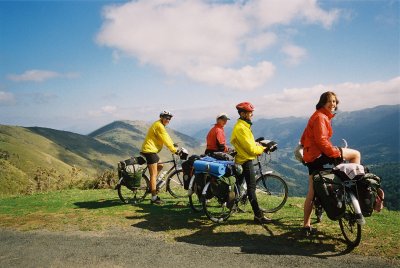 There then followed what might be the most magnificent scenery I've ever seen, only rivalled by the switchbacks of the Perysourde and the Corniche to the Aubisque. Last time it was all I could do to see the edge of the road! The road wound its way around the mountains as a sliver of tarmac clinging to the edge. The light was breathtaking, we were all together which was wonderful. We took a very long time over those few kms, we were all bloated with food, but somehow it was a moment of beauty we all wanted to share. I'd dreaded this day and it turned out to be perhaps the best of the trip - strange how it works out.
I'd run out of hyperbole if I carry on, the pictures don't even give a fraction of the atmosphere and the only place it is safe is burnt into our memories. We even got buzzed by a helicopter to add some excitement to our reverie.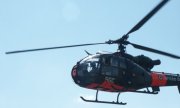 But though we must have loitered for over an hour time was marching on and so reluctantly we dropped down to the valley as if in freefall. I found myself riding with William as we came into St Jean Pied-de-Port when my phone rang.
Another faller. This time Rob had lost it on the descent - Our resident doctor (Evelyn) had bound his wounds and Andrew put the bike back together, he was OK, something wrong with the brakes but they were OK to continue and they'd see us at the campsite.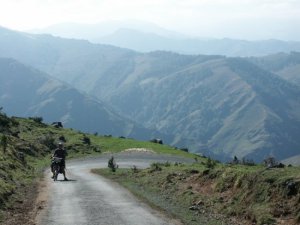 Once again I was in a position where I wanted to get to the campsite so I could organise taxis etc if need be so I pressed on, passing Allan sipping beer outside a bar in St Jean (lucky guy). William tracked my back wheel as before, though I had to stop for him to have a pee (worse than the kids), just short of the campsite at St Etienne de Baigorry. Liz caught us up but not before William had managed to get his skinshorts up:-)
The campsite is one of the best, very quiet but with great facilities and the village has a supermarket, bars, restaurants etc. There was also a 'Trinket', a huge squash court like building, where they play Pelotte - imagine playing squash on a court the size of a tennis court but hitting the ball with your bare hand. It's really spectacular and I'd hoped that there'd be a game on that night, but when I asked at the club bar the girl said no.
Eventually everyone arrived safe and sound - Rob was a bit shaken but Andrew had been brilliant and repaired the bent brake hanger with his extensive toolkit - there really wasn't much to do. But on inspection I noticed Rob had got though a set of brake blocks - right down to the metal! No worries, I had spares, but it showed how hard the descents were - the blocks were new 12 days ago. I might add that this was the only time any of the bikes was touched in the entire fortnight - a combined total of well over 10,000 km with not a single breakdown or puncture - spectacular.
After the exercise and vast amount of food I'd poured down my throat over the day my stomach was feeling considerably worse and I was fighting to keep down what it contained. I took it easy, nibbled on something in camp and felt a little better, but it was early bed for yours truly.
All the others ate in Camp too, except for Allan who had steak and chips (HOW!!!!) in the 'Trinket' bar and watched a match of Pelotte - damn!
Day 13 - Thursday 25th September - St Etienne to Ainhoa 35 kms.
"We're all off etc...."
Two cols today. But this was going to be pure pleasure. Both small and gentle, no need for first gear and some fun on the way as at the top of the first was the Spanish border and a weird bar/come supermarket come restaurant where we were going to eat.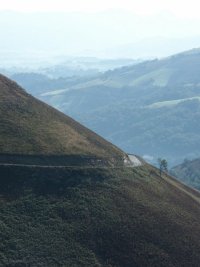 We troughed Gateau Basque and coffee for breakfast in a little bar then set off up the Col d'Ispigy. This is one of the nicest cols of the Pyrenees. At only 672m it's short and you never really need first gear but the scenery is a great swansong for the Pyrenees with the road winding up and up to the head of the valley, visible all the way up. You really get the impression of being exposed on a mountain with little of the effort. It was a day of relaxed climbing, chatting and a lot of photography as everyone said goodbye to the last of the Pyrenean cols.
At the top, the aforementioned bar was packed with the most amazing collection of souvenirs and food, from huge dried hams to tins of anchovies. Here I bought presents for my two boys, a bullwhip for Arthur (10) and a baseball bat with 'Basque' painted on it for Sam (8) - I know my kids...
The beer was so cheap I bought a round and we then sat down to another BIG meal:-)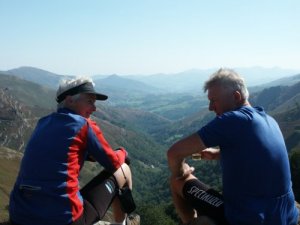 Then down the other side and at the bottom began to climb the second col, another gentle climb, I'd not even call it a col, to the 690m Pueto de Otxonto.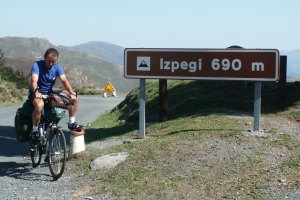 We all waited and got together for the final col photo of the trip and then sadly turned downhill for the 10km to the border and the campsite. The descent was great, a sweeping smooth main road devoid of traffic where you could really let the bike go, and I did. Thus I arrived ahead of the others at the collection of huge supermarkets that sit just on the Spanish side of the border and sell the French Spanish goodies.
After a perfect day something had to go wrong... I knew the campsite well and knew it was right on the border, but the supermarket area changed day to day and is better described as a massive construction site so I wasn't sure what the lay of the land would be. I'd told the others "not to cross the border under any circumstance" - that way they couldn't get lost. Foolishly I swung into the campsite and pitched camp and waited for the others. Ever had a little voice in your head saying "bad idea"? Kate and I call it a 'should've' voice - should've done this, should've done that - now we both tend to listen to it. Well I had a 'should've' voice as I peeled off to the campsite up a little backstreet way I knew from before - I should wait for the others...
But I was too happy and in a 'they'll be alright' frame of mind.
They all rolled in one by one having got to the border with no sign of the campsite, and only then seeing the only campsite sign actually next to the border post. But not Rob and Allister. Nope it seemed they'd gone right past believing the campsite actually be in the village of Ainhoa.
After a lot of milling and panicing they'd turned round and of course found the site on the border but they weren't happy, Rob especially had been all for continuing all the way on to Biarritz... Sorry guys, next time I'll lie in the road.
More mayhem as after showering we went on a food hunt to find that this buzzing metropolis of consumerism shut down at 7.00pm to become a food-free desert. Luckily (for me) the campsite bar also did food, and despite being loaded with us at no notice and at 8.00pm at night did us proud as we sat outside under the lime trees and ate ANOTHER HUGE MEAL:-)
Day 14 - Friday September 26th - Ainhoa (OK the border) to Biarritz - 25 kms
The end. Inevitably after all we'd done this would be an anticlimax. I'd tried to keep us in the mountains until the last minute but now it was over. We breakfasted at the campsite bar and then off, mostly downhill to Biarritz. It was a good ride with some beautiful countryside as we wound down the valley of the river 'Nivelle'. A quick stop at the cash machines of St Pee (honest) and a km climb out of the town. I piled up this and for the first time of the week was first to the top - I wanted to make sure of pictures of everyone climbing and it was the only way to do it. From there we pottered on and found the route was waymarked for cyclotourists which was nice. Pretty, wooded and countrified by turn the road gradually brought us into the mad traffic of Biarritz where after doing battle with various lorries and cars we arrived at Base camp after 13 days and all those mountains.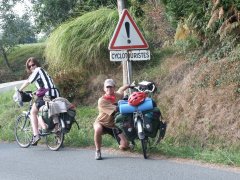 And I'm sorry guys, because at this point I rather lost it. After a year in the planning and a wonderful but very stressful fortnight I think my system said 'enough' and shut down. I didn't let myself sit down, just started packing up the gear, putting bikes on the trailer and generally being anti-social. I didn't want to talk because I was pretty close to tears, anti-climax doesn't describe the half of it. I didn't organise food for anyone, didn't fuss over whether we'd eat in or at a restaurant - I just needed to stop. You were all great and left me alone unless I needed help - thanks. Then John and Bridget came down (they'd taken a chalet at the campsite). I don't know who looked worse, John was still shocked, Bridget drowsy and smelling of hospital. As I write, six weeks after the accident, Bridget is still not back at work though she plans to be soon. Apparently she was unconscious for several minutes, John thought she was dead and had to stop her swallowing her tongue, I just found it all hard to take - sorry again. John and Bridget went back to their chalet - she was too tired to come out with us that night.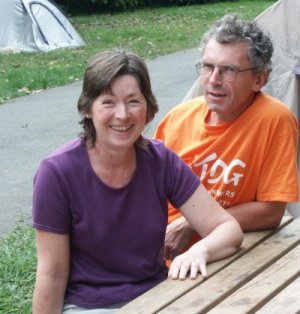 But the packing was soon done, many hands make light work, and we'd decided to eat out at the same place as on our first night - the other options were too far away. William, bless him, went off and booked us in as on a Friday I feared there'd be no room.
So in civvies, not a shred of lycra in sight, we went off and had out last meal together. It was uninspiring as before and they refused to serve us drinks afterwards. I think everyone felt a bit like me, Jeff sloped off quietly as he was in a hotel - he had an early train to catch, and the rest of us talked but not animatedly. You see when you been through something like that you don't need to talk about it straight away. I've even waited a month before writing this. They say that great sportsmen, after some achievement, need time for the reality to sink in, and I think we all now know what that must be like.
So early to bed, and with another 8 hour drive ahead I needed a good sleep.
On the terrace above us was a mobile home and some friends sat chatting quietly amongst themselves. As drink no-doubt flowed, the volume increased, but to be honest they weren't being rowdy. BUT THEY WERE KEEPIN ME AWAKE. At 3.00am one of them decided to put on his car stereo and play some cool rap music to entertain the campsite. I exploded out of my tent - stormed up to them and proceeded to rant at them about this being a campsite not a discotheque. You have to imagine the scene - a large, bearded, semi-naked, middle-aged man in bare feet and with the worlds weirdest tan glowing in the dark, ranting at them in broken French before storming off - I didn't need the bullwhip and the baseball bat.
They were very quiet afterwards...
Day 15 - Saturday 27th September
After 3 hours sleep I woke and packed the last of the gear, tipping people out of their tents and sleeping bags in the process. Then with everything loaded we all go off to the previous night's restaurant to once again lay waste to the breakfast menu. Tearful goodbye's and then .... home.
Postcript
It's the middle of November, it all seems so long ago. Bridget seems to have almost completely recovered and is back at work. I haven't been on the bike since and my tan has peeled off. But sometimes I can still feel the hot sun on me, the smell of the mountains, the wind roaring in my ears on my descents, the feel of the handlebars in my hands. It's hard to describe to others, but when you are riding in the mountains it's as if your senses are working at 100% along with the rest of your body. You feel so alive. The days we spent together, riding, laughing, drinking, will remain with me and I'm sure everyone else, for the rest of our lives.
So to all of you that came - thanks...